Solid CBN inserts for processing iron and chilled steel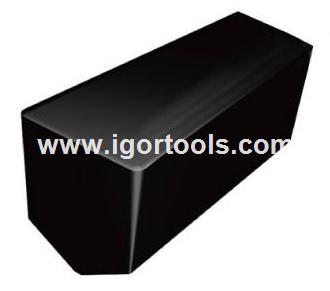 Introduction:
1.PCBN blanks imported from DI,E6
2.PCBN blanksHardness:2500-4500 HV
3.Top quality as world leading meanufactuers,
4. Machining work piece hardness from HRC 45 to 60..
5. High abrasive resistance and long service life.
6. big quantity in stock.
Application Introduction of cbn turning inserts:
Processed Materials: hardened steel, grey cast iron, chill cast iron, powder metallurgy work-piece, thermal spray coating work piece and others,
Engineering Features of cbn turning inserts:
High hardness and abrasive resistance.
High thermo stability and high heat resistance. High chemical resistance stability.
Replaces grinding with turning with work efficiency improved by 5 to 10 times.
Dry cutting without cutting fluid to avoid environmental pollutiion.
High speed cutting and high precision machining.
Common Applications for CBN
· Alloy steels
· Carbon tool steels
· Die steel
· High speed steel
· Forged steel
· Chilled cast iron
· Meehanite iron
· Moly chrome steel rolls
· Inconel
3 Ways of Reworking your expensive CBN Tooling
Whether you are using mini tips, large tips, single tips, double tips, triple tips or solid.
IGOR Precision Tools will have a way to rework your material and save you money the same way we have for all of our customers.
1. Relapping Inserts:
This is the simplest and least expensive way of reworking your CBN tooling inserts.
The wear on your insert is measured and we simply grind back your cutting edge to clean up the wear.
Edge preps if any are reapplied and you get back a good as new cutting tool at the fraction of the price of a new one.
You can also rellap your tool with out changing the IC, this tool can then be used in its original holder
2. Resetting Inserts:
In this process the wear on your insert is measured and a shim of equal or greater size is placed behind the inserts tip.
The original geometry of your tool is then ground back on giving you a brand new cutting tool.
3. Retipping Inserts:
In this process we simply remove the used tip from its carbide body.
A brand new tip is re-brazed to the tool saving you the cost of having to replace the body.